Aspire Solutions, Inc (ASI) provides true mobile analysis and data collection capabilities directly at the point-of-use. The Process Guide can operate wireless or remotely (no network access) on many different mobile computing options. The user follows the customizable guide and syncs the data to a centralized computer making it instantly available.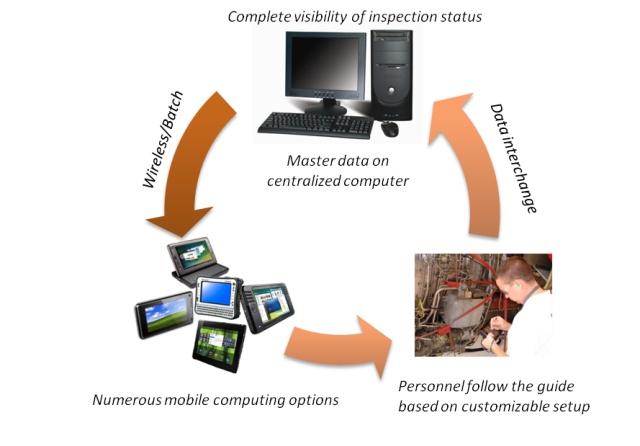 Hardware Independent–The Process Guide can operate on any hardware running Microsoft Windows. Typically, the software is used on Ultra Mobile Personal Computer's (UMPC's), which are available through Samsung, Panasonic Toughbook, Dell, Blackberry, and many more.
Standardized Process – The Process Guide streamlines processes by standardizing process ensuring that every operation is performed the same way and has the same result regardless of who performs the process.
Standardized Data– The Process Guide eliminates slang and abbreviations ensuring information is collected in a standardized manner. This enables real time data and trend analysis.
Knowledge Management / Training Aid– Critical head knowledge and on the job experience is captured and distributed throughout the workforce, and not lost via promotions and retirement.
Visual Work Cards – The Process Guide supplies actual pictures of operations making them simpler and reducing training time, including the ability take actual photos and annotate them to highlight difficult to decipher issues.
Technical Material – The Process Guide provides Point-of-Use access to technical materials including technical manuals, DMWR's, drawings, etc.
Configurability – The toolset design makes establishing new guides quick and easy.
Root Cause / Trend Analysis– The Process Guide has the ability to fully analyze key performance indicators and focus on problem areas to drive improvement into the organization.
Inspections / Audits– The Process Guide directs the user through the process ensuring every item is properly inspected and defects are logged in a standardized method.
Centralized– The Process Guide can sync to a centralized computer making it instantly available at all times.
Maintenance– Changes made on the centralized computer are automatically synced to all mobile devices ensuring complete version control management and the ability to quickly process any changes / updates throughout the workforce.